The clip holds well and the lights are awesome and obviously helping my plants grow heartily. The timer works, but sorta picks and chooses its own time of day that it wants to turn on.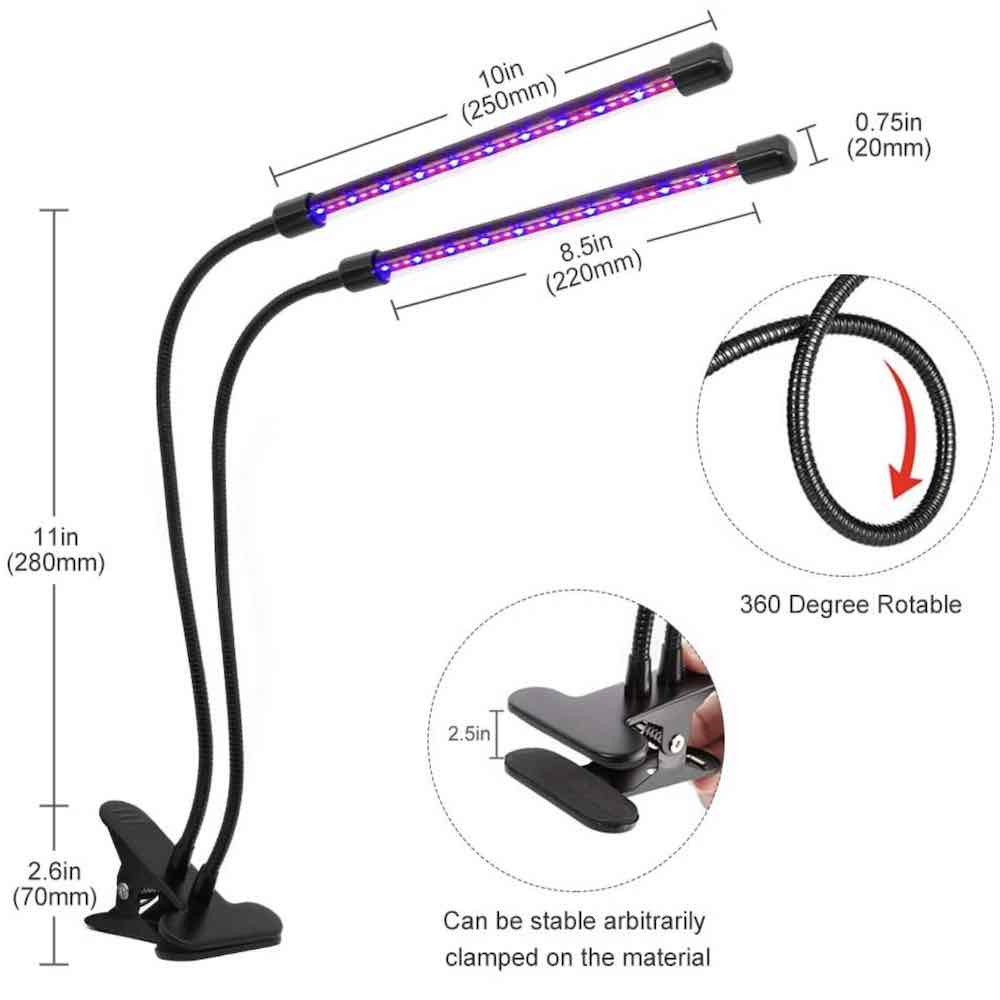 The Most Effective & Easy To Use LED Grow Lights
Full Spectrum LED Grow Lamp
40W – Dual Head With Timer
FREE DELIVERY ACROSS IRELAND ON ALL ORDERS €50+ or more - (Save €22)
END OF FEBRUARY SUPER SALE … Don't Miss Out
This 40W plant grow light is a great choice for any hydroponic system,
With a strong clamp and gooseneck 2 head strips of 40 leds to cover a wide area.
Comes with a smart timer function which allows you to set and forget.
DUE TO CURRENT DEMAND
PLEASE ALLOW 7-10 DAYS DELIVERY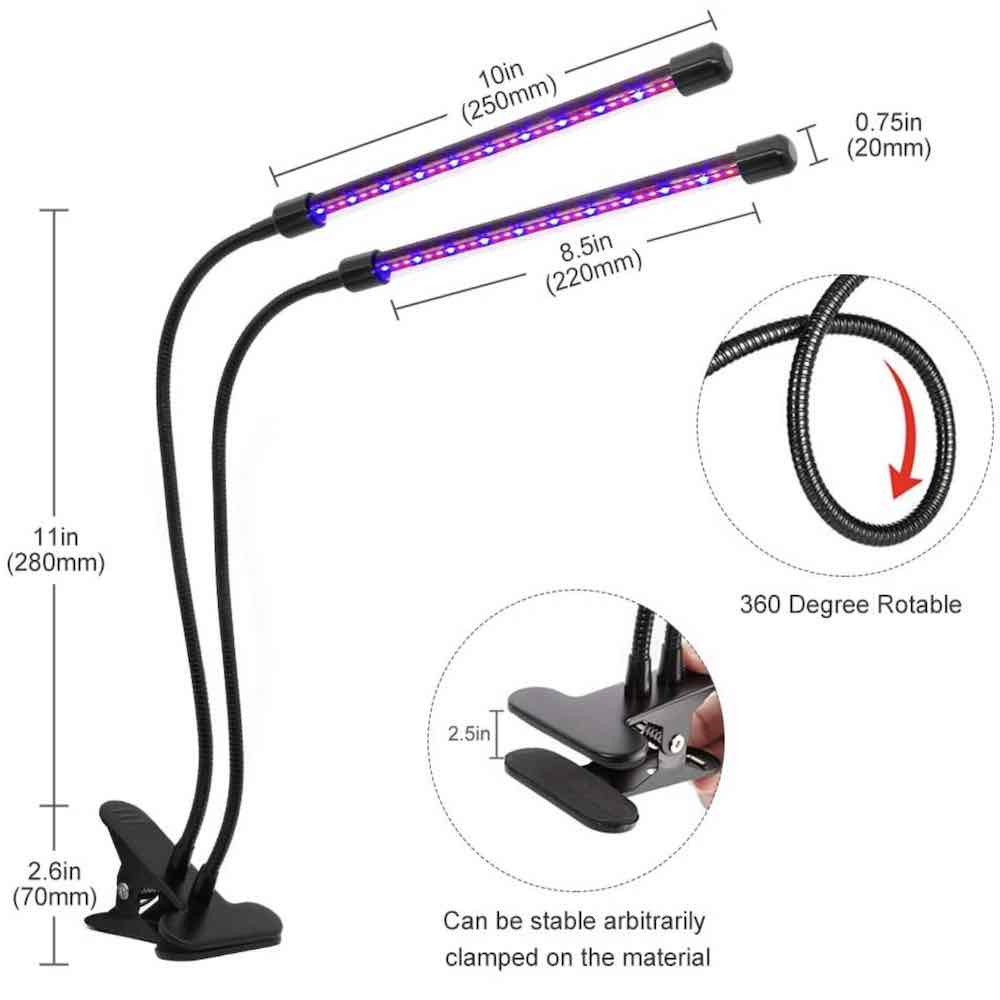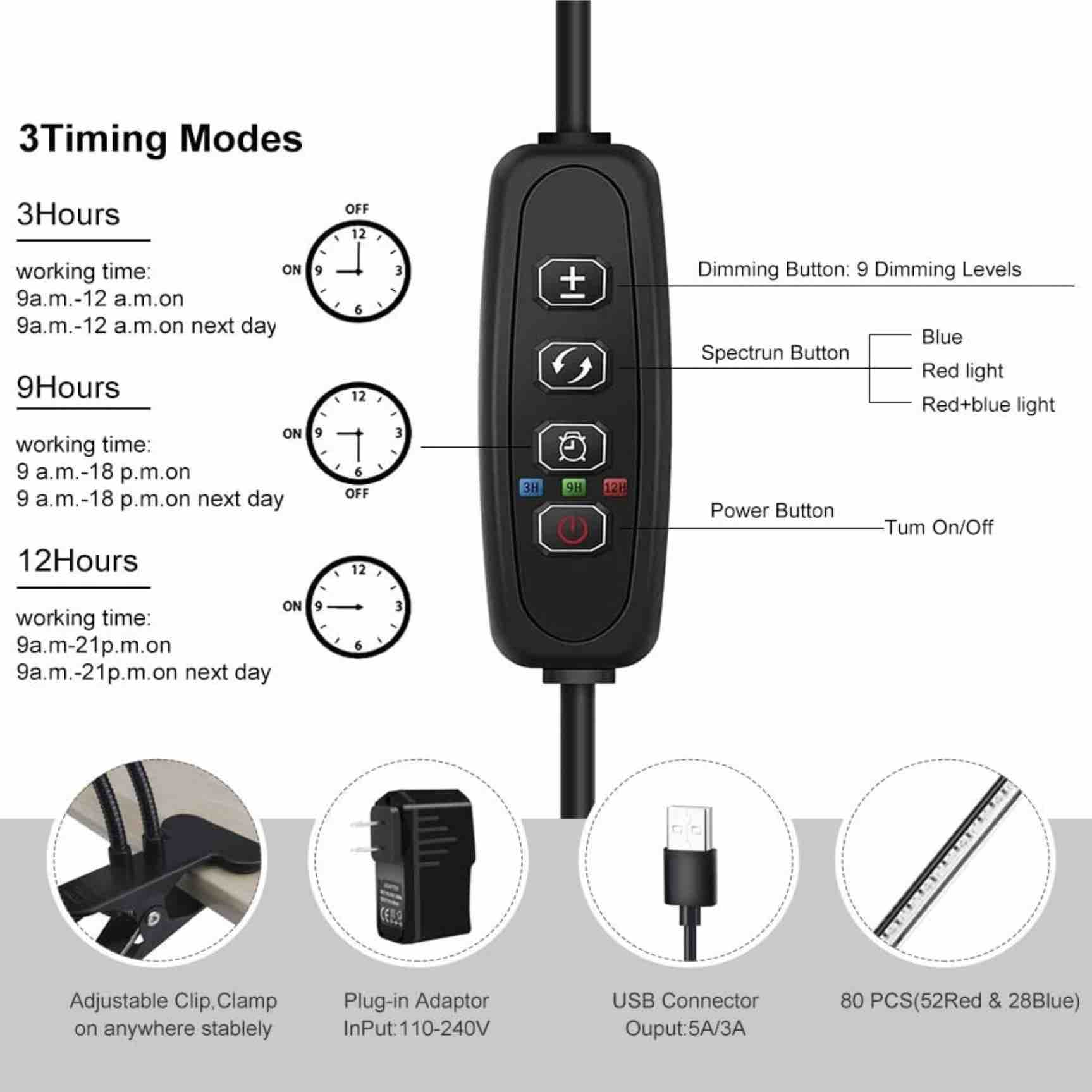 TIMER FUNCTION
Smart timing function with USB plug. Set it up for lighting 3 hour / 9 hour / 12 hours, but also adjust the brightness of the led grow light strips and the distance between the grow lamp and plant according to specific plant needs.
BEST RED/BLUE LED COMBINATION
This LED grow light creates targeted wavelengths for plants. The 14 Blue LED chips ensure plants take in more energy through the synthesis of chlorophyll to help in germination. 26 Red LED chip contributes to effective germination, flowering, and enhances photosynthesis for better results. 
9 BRIGHTNESS LEVELS & 3 COLOURS
LED plant light has five brightness levels to suit a variety of stages in plant growth. With 3 colour modes you are able to switch the growing lights off or on to suit your plants/vegetables needs.
3 Switch Modes: Red Light On, Blue Light On and Both Light On.
5 Dimmable Modes: 20, 30, 40, 50, 60, 70, 80, 90 and 100% Brightness.
POWERFUL CLAMP & MULTIPLE USES
This premier led grow light is made with strong clamp, and can clamp onto anything up to  6cm | 2.5 inches thick. It's made of high quality materials and springs. The clip provides a very strong grip and won't come loose for a very long time.
360 Degree Rotatable Flexible Gooseneck
The led grow light with 360 degrees rotatable flexible gooseneck, it's so easy to adjust and place anywhere, it is able to light a wider area and emit light in any direction to provide energy to more plants.
Does this have a usb connector in the power cord?
No USB connector, just a power cord.
Can this grow light stand up on its own without being clipped onto something?
This has to be clipped to something
How long is the life of the lights? How many hours?
50,000hrs
Are you supposed to remove thin layer of plastic from the light strip before use?
Yes
Does this plant grow light work great with fruits?
This LED growing light also called uv plant light ,it is convenient for most of potted landscape/flowers/fruits/herbs and indoor plants(including hydroponics),there are 8 dimmable levels to meet the requirement of different plants.
How long is power cord?
around 8 inches | 20cm
How do I get this to work on a timed outlet? I need 12h/12h
The time controller is part of the mechanism to turn the device on and off with, and not part of the remote. You can't hurt the performance by experimenting until you find the combination you need for timer sets.
Is it good for starting vegetable seeds?
It is great for starting vegetable seeds.also you can use it for fruit planting and herb planting .
What is the distance between the clamp on to where it starts to bend?
The clamp bends from the base
Will this light hurt my furniture ?
The clip comes with a thick EVA pad which protects any furniture you are clamping to. The lighting will not affect any furniture
Will it increase my electric bill?
Any increase in price on your electricity bill will be neglible.. ie it will not cost too much to run.
This led grow lamp uses COB beads, this is is the latest technology which has uniform illumination and less glare, which is more effective for plants germination, blooming and fruit bearing at different stages. It also has better heat dissipation
What is the gooseneck length?
The actual gooseneck section is 28cm | 11 inches, the light section is 22cm | 8.5 inches. The connection pieces make it slightly longer.
Still Not Sure ... Have A Question About The System?